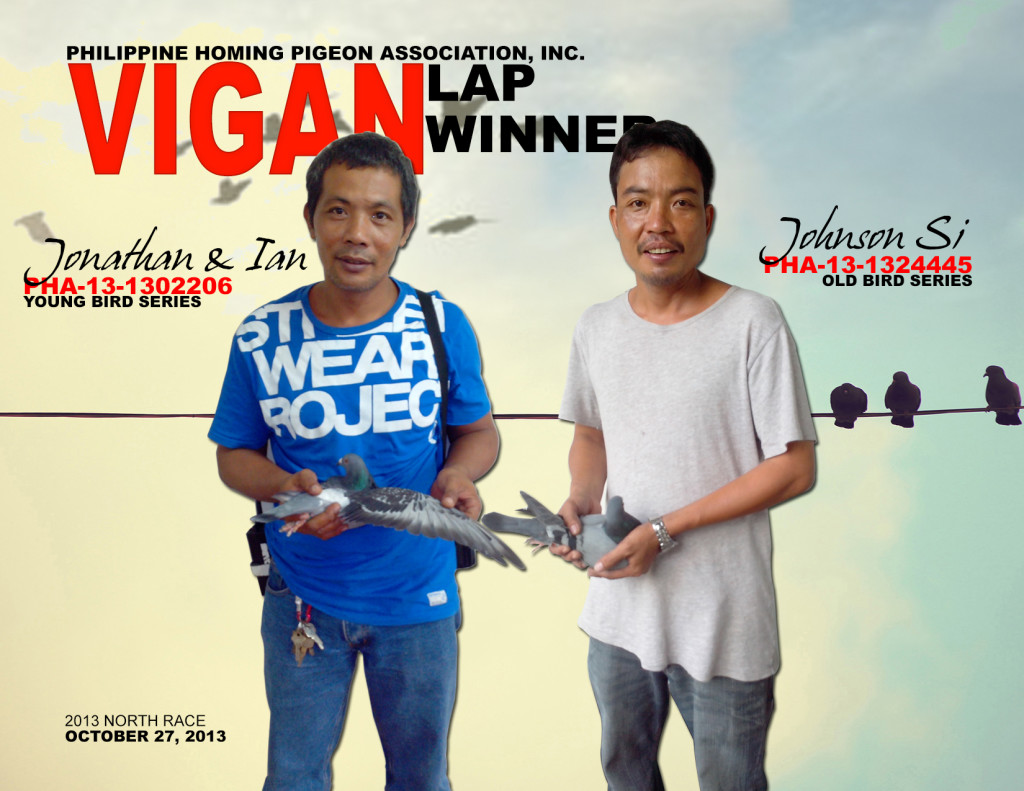 VIGAN, Ilocos Sur — Jonathan & Ian emerged as the winner in the second leg of the Philippine Homing Pigeon Association (PHA) North Young Birds and Old Birds Series 2013 here last Oct. 27.
Jonathan & Ian's PHA-13-1302206 — a black cock out of Colson bloodline — dominated the Young Bird Series with a speed of 1,167.156 meter per minute.
Johnson Si and Emmanuel Go shared the limelight by finishing second and third, respectively.
Si's PHA-13-1301514 — a pencil cock out of Martin Vanzoon line of Manny Go X SVR line — clinched second place with a speed of 1,163.841 meter per minute.
Go's PHA-13-1301531 – a blue bar cock out of Hurricane From My White Flight line X Royal Ties line — wound up third with a speed of 1,163.782 meter per minute.
The other top Young Birds finishers were Emmanuel Go, fourth place; Romeo Liwag, fifth; Rey So, sixth; Rey So, seventh; Burlington Loft, eighth; David/Wilford, ninth; and Rey So, 10th.
In the Old Bird Series, Johnson Si shone brightest with his PHA-13-1324445 — a blue bar hen out of Jos Thone X Van Den Brouke line of Paquito Ngo with a speed of 1,162.398 meter per minute.
Jude Sy's PHA-13-1325575 with a speed of 1,152.805 finished second, while Luis Chiu's PHA-13-3115966 — a white cock Van Den Broucke X J. Aarden with a speed of 1,145.337 meter per minute wound up third overall.
Also making it are Jaime "Jimi' Lim, Wiston Tiu, Emmanuel Go, Benito Go Que, Benjamin Nava, Joseph Yap and Joseph Yap.
In a report to PHA president Jaime Lim, racing chairman Nelson Chua said a total of 820 birds out of 1,090 birds from 60 lofts were clocked in the Young Birds Series; and 388 birds out of 518 birds from 43 lofts were clocked in the Old Birds category.
Last week, Benito Go Que and Jose Torres shared top honors in the kickoff leg in Munoz, Isabela, last Oct. 20.
From Vigan, the North series moves to Tuguegarao, Cagayan, on Nov. 3
Also in the calendar are Laoag, Ilocos Norte, fourth leg on Nov. 10; Gattaran, fifth leg on Nov.17; Burgos, sixth leg on Nov.24; and Aparri, Cagayan, seventh and final leg on Dec. 1.
Published : Saturday, November 02, 2013
Written by: Ed Andaya