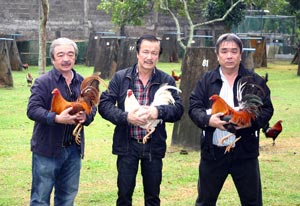 Dicky Lim started at the cockpit arena during the early 70's and started breeding in 1994 together with his brother-in-laws, Jaime "Jimi" Lim and Alfredo "Bebot" Lim.
The three team up to form one of the best gamefowl farms in the world, the Winslet Gamefowl Farm. The name Winslet was not derived from the blockbuster movie "TITANIC" leading lady Kate Winslet, but "Let's win" read backwards.
Bebot is in charge of the day to day operation. Jimi takes care of the breeding program, as his passion is genetic breeding. He is the one who linebreeds the winning line. Dicky, who is considered as the Number one (1) cock selector in the country today is the figure head in the company.
Dicky who had converted into being a Christian in 2009, with his two (2) partners have a common goal to achieve. "To breed one of the best lineage of gamefowls in the World". Their main objective is breeding and not gambling. Since they are not involved in gambling, all stocks are up for sale. This gives the buyer a free hand to choose from all of their breeding.
From 1999 up to 2011, breeding has been done in Malvar, Batangas (2 hectares farm). Guintubdan farm was used for cording cocks in order to age them. But in 2010, to cope up with the enormous demand of its client, Winslet decided to expand.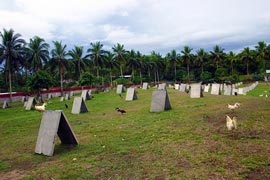 It purchased a seven (7) hectares sprawling property in Number One, Barangay Emmanuel, Cuenca, Batangas. It now house one of the most sophisticated gamefowl farm in the world.
It is under the supervision of Dr. Andrew M. Bernardo, DVM. Doc Andrew as he is fondly called, is the main consultant of the farm, not only in the health and conditioning of the chickens, but in all aspects such as breeding, housing, and maintenance.

Winslet made history in the cockfighting circle when it captured the 2002 and 2006 World Slasher Championship.
The famous lines that won the two (2) World Slasher titles and were later infused with new bloodlines to improve its gameness are: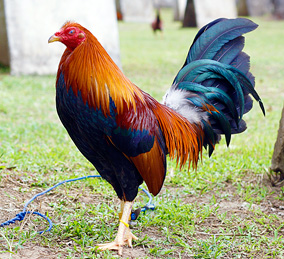 1. Lemons
These breeding stocks were acquired from Mayor Nonoy Jalandoni and now infused with Sweaters to improve the station and composition.
2. Whites
Broodcocks used were from the lines of 2006 World Slasher Championship White entry winner. Now infused with Lemon * Claret.
3. Brass Back
Foundation cock was from the lines of the 2002 World Slasher Cup brass back winner. It's a Black Butcher crossed with Hulsey regular Grey.
4. Greys
These are from the 2002 World Slasher Cup's last fight, a Hulsey Grey who won and captured the championship cup as Solo Winner.
5. Gold
A recent creation of Winslet, it's a Lemons cross with a Gold Sweater, a throw back from its breeding.
6. Sweater
Direct import, from Dink Fair.
7. Kelso
Direct import, from Dink Fair.
8. Boston Roundhead
Brood cocks used were from the lines of 2006 Worldslasher championship entry winner. Now infused with lemon.
9. Hatch
We have different Hatches, Leiper, Melsims, Gilmore, Maclean and yellow Leg. All our hatches are blend to our main lines.