"Breeding Koi The Japanese Way"
Jimi has been keeping Koi since 1991. At that time; he was just keeping mediocre Koi's. By 2001, after seeing the koi of some fanciers, he became enthusiastic in buying Koi's with nice patterns and started collected them.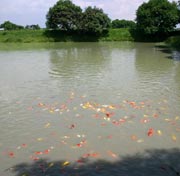 Then in 2003, Jimi rented a Koi farm in Mangahan, Baliwag, Bulacan where he started breeding koi. It was named Hayashi Koi Farm. Hayashi was derived from a Japanese word which means Lim.
In 2005, Jimi decided to expand and purchased another koi farm. He found a very nice farm in Bagbaguin, Bulacan where the water and drainage system were very nicely designed.
It was also on the same year that he decided to construct a showroom inside Paseo de Magallanes. At Koi Village Pet Mall, you can find anytime at least 4000 Koi's on display.
It was in year 2006, when Jimi met Japanese & Singaporean koi breeders who were kind enough to teach him the scientific way of breeding Koi. He was taught how to artificially inseminate koi breeders.
He was very fortunate with his Japanese friend as he not only taught him how to breed; he even brought along his Japanese technician from Japan to educate him on breeding and culling. It was from there on that Jimi decided to import koi from Japan in order to breed excellent quality koi.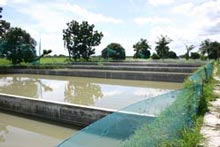 In 2007 the Japanese friend brought him to most of the big farms in Niigata, Japan, then to Hiroshima in 2008.
From there, Hiyashi Koi Farm was able to acquire a lot of good breeders. Because of these imported breeding stocks, we can assure our buyers that our koi are of excellent quality.

We are proud to say that Hayashi Koi Farm is one of the most sophisticated Koi farm in the Philippines.
The method of breeding, growing & culling of Koi's is from the best technology. The medicine and equipment used are imported from Japan. The farm itself was carefully laid out with fruit trees all over, making it a very beautiful farm.
Farm visited and Koi purchased from Niigata, Japan in 2007.
Yamazaki Misaji Isa Hajime Tyohei Koi Marukyo Suda Oya Marudo Japan Koi Tropical Kahimata Koi Farm Chogoru
Shinji Murata Kokugyokan Masaki Aoki Hoshiyone Dainichi Utzuka Hoshikin Iken Kubo Murata Hirashin
Hiroie Yamaguchi Sakazume Gontaro Ushizou Murakami Torazo Yamajyu Yozaimon Marusei
Trip to Hiroshima in 2008.
Momotaro Koi Farm Sakai Fish Farm Tamura Takeda
Ooishi Koi Farm Takigawa Konishi Nishikigoi Omosako