"Your One Stop Koi Shop"
KOI VILLAGE Pet Mall, operated by Advanced Hobbyist Genetic Breeding Station, Inc., is one of the largest koi (Japanese colored carps) mart in the Philippines today where there are over 4000 koi on display for sale at any given time.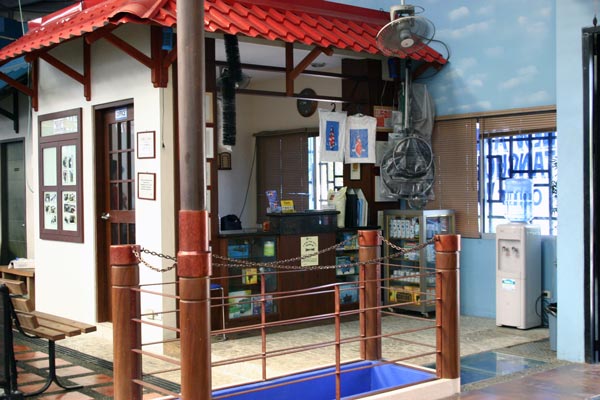 This magnificent mart caters to the needs and interests of both the novice and serious koi collectors, as well as those who would want to add beauty and life to their gardens.
Our stocks of vibrantly colored koi are reared at our farms that are exceptionally designed and highly maintained to ensure production of high quality Japanese koi, providing them with a steady and healthy supply of well aerated/oxygenated fresh water, high quality feeds and proper care. All of our Koi's are free from fish lice (Argulus) or Anchor Worm (Lernea).
As we understand the needs of koi fanciers, we have made Koi Village a one-stop shop for you. You need not worry about missing some things or having to find them elsewhere. Visiting Koi Village is truly an exhilarating experience which the young and old alike will enjoy.
So come and visit us … We're open daily from 10am to 9pm.
What is the Pet Mall?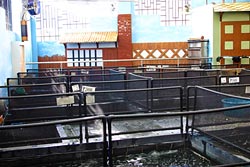 The Koi Village Pet Mall is designed in a way that would make it look like a koi village surrounding several ponds with clouds at the background.
We have 32 ponds of various size and depths. It is constructed with skylight to enhance the color of the koi and is equipped with ceiling fans and misting fans to keep the mall cool. Hammerhead sharks can be seen swimming around on the glass flooring located at the entrance lobby. We use advance and sophisticated filtration system which is situated along the hallway.
Unlike many other malls where pets are a no-no; here at the Koi Village Pet Mall, pets are very much welcome. There is a beautiful garden at the back of the mall where guests can take their snacks and children can play on the swing.
Our main attraction is a 50 ton, 8-ft deep pond where over 70 cm. jumbo koi is placed. Our "Feed the Koi" strategy, the first in the Philippines, is a sure crowd puller. For a P20.00 per cup of Koi pellets, children and adult alike can enjoy feeding the koi. Bringing your own koi feeds is however strictly not allowed.
Our koi differs from that of other stores as ours are well conditioned to accept pellet. All our koi are medicated every 10 days to keep them healthy. We do not sell other kinds of fish. Feeds and accessories are for koi only.
Retail and Wholesale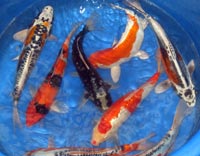 At Koi Village, we have over 4000 koi on display and on sale at any given time. We have new arrivals weekly that constantly fill the 32 ponds that are individually priced with cost ranging from Php200.00 to Php250,000.00.
Prices marked on every pond are fixed. This set-up gives the clients the free hand to plan their purchase and conveniently make their choices within the range of their budget. With this arrangement, clients are assured that they are not being overpriced. This is unlike in other pricing set-up wherein the seller raises the price of a certain koi whenever he notices that a buyer is extremely interested on that certain koi.
We have a "No return-No Exchange" policy. All fish that have already been sold become the buyer's responsibility. We will not be replacing or refunding the cost of fish that have died after the same had been bought and brought out of store premises.