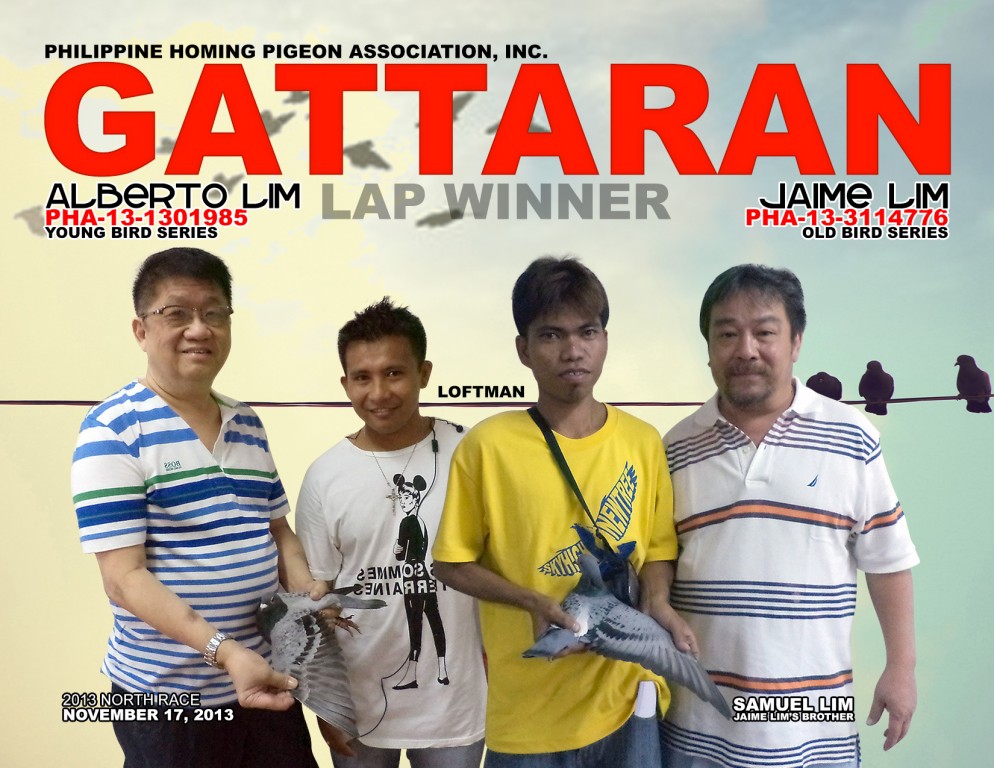 GATTARAN, Cagayan  — Alberto Lim  topped  the  Young Birds series even as Jaime "Jimi" Lim completed  a  rare  1-2-3 finish in  the Old  Birds class  in the   fifth leg  of  the  PhilippineHoming Pigeon Association   (PHA)    North Series  2013  here  last Nov. 17.
Lim's PHA-13-1301985 — a  dark   cheque  cock  out  of   Desmet Matthys X  Jos Thone  bloodline — captured   top honors in  the Young  Birds series with a  speed of   1,091.627  meter per minute.
Nelson Chua and Rey So finished  second  and  third, respectively.
Chua's  PHA-13-1301266 — a blue bar cock out of Herman Alfons X   Herman  Alfons origin – took second  place  with a speed of  1,088.788  meter  per  minute, while  So's  PHA-13-1301053 — a blue  bar hen out of  Marcel Aelbrecht — wound  up  third with a speed  of   1,080.837 meter per minute.
Also making  it  to the Top 10 Young  Birds  are  Egay Yap, fourth place; Victor Yap, fifth; Rey So, sixth; Emmanuel Go, seventh;  Jude Sy, eighth; Winston Tiu, ninth; and Rey So, 10th.
In the Old Birds series, Jimi Lim  swept the top three places with his PHA-13-3114776 — a blue cheque  hen  out of   Crack 52 X  Dewit Van  Bunderen  bloodline — taking  top  honors  with  a speed of  1,084.056  meter per minute.
Lim's  PHA-13-3114724 –  a blue  cheque   cock   out  of  Janssen-Hofkens X  Crack  52  X  Dewit Van Bunderen  X  Flying 52 bloodline –   finished  second   with a  speed of  1,049.793 meter per minute.
PHA-13-3114711 — a    blue  cheque out of  Philippens X  Flying 52  bloodline –   completed Lim's dominance  by placing third with  a speed of   1,046.268  meter per minute.
Completing the Top 10 are Victor  Tan,  Alberto Lim,  Alberto Lim,  Jimi Lim, Egay Yap,  Jose Torres and Jimi Lim.        PHA  racing  chairman Nelson Chua   said  a   total of  425    out of   619 birds  from 59  lofts  were   clocked   in  the Young Birds class;  while    210 out of  318  birds  from  43 lofts were   clocked in   the   Old   Birds section.
Two  more legs are  still  left   in  the  annual   PHA. From  Gattaran, the series shifts to  Burgos on Nov. 24.
The  prestigious  series comes to a  fitting end in   Aparri,  Cagayan  on Dec. 1.
Published : Friday, November 22, 2013
Written by : Ed Andaya